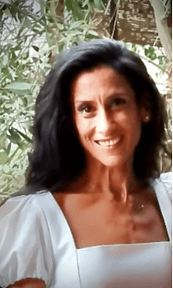 Spa & Wellness Concept, Design & Project Development & Operations Management Consultants
Her strengths are not limited to the creative vision in Spa Concept & Design Development. This is generously complimented by a strong understanding of, and extensive hands-on experience in, Spa & Wellness business development and management.
"I work on every project as if it were mine to build, open and operate. I take into serious consideration every aspect of my clients' investment. I ensure every staff member that cooperates within the Spa has the required expertise and attitude to proficiently express the values behind the concept in the work they do "
It is with this keen in-depth understanding of the core business and end-user expectation that clearly differentiates Miriam in her industry.
"

My career choice is so much more than just what I do for a living.
It reflects my way of "Being" in this world.
My objectives are of course to continue to acheive overall success in my work as well as ensuring my clients reach their business objectives.
WIth this there is also the great opportunity to have a positive impact in the lives of others through every Spa project I work on, giving Spa guests spaces and programs that will allow them to reconnect with their inner selves.
My mission is to inspire people to want to take better care of themselves and to live more authentic, healthy and meaningful lives."
Miriam Seferian.
Miriam Seferian, Founder & CEO of SHENKHA, has dedicated the past 25 years of her career creating Bespoke Spa Concepts. Guiding the Design development and being an integral part of every Spa Project Development.

Born and raised in Montreal, Canada, the richness in the diverse cultures her family and city offered, instilled in her a curiosoty to explore her roots. This set her on a journey which has lead her to where she is today.
"When I first left my home town of Montreal in 2001, my intention was to bring my Clients fresh new ideas to Spas . Instead, the journey that awaited me was one of introspection.
My travels guided me towards a deeper understanding of my life and more importantly, this brought forth in me an authentic expression of who I am. I discovered my innate capabilities in architecture & interior design for which I cultivated indepth knowledge & experience guided by incredible Architects and ID from different parts of the world.
My 10 years in business administration in communications and construction indsutries, along with my passion for wellness added to the many years as Advisor / Consultant to many Architectural firms. has lead me to where I am today, leading my own international Spa Development Consulting company."
In early 2007, SHENKHA expanded its services internationally and entered new markets.
Since going international, SHENKAH has developed projects in Globaly, such as , Italy, Zurich, the Maldives Islands, Turkey, Kazakhstan, Russia, Georgia, Yalta, Libya, Bahrain, Egypt, and the United Arab Emirates. This exposure has allowed her to gain extensive understanding of the various cultural needs of each Country. This opened opportuities to meet and work along side international Architects, Interior Designers & Contractors. She confidently holds the role as Lead Spa Consultant guiding each team forward with her experience, creativity & driving her vision of wellness towards the future.
Shenkha is rooted in the appreciation of space, culture and time.

The "Art " of Experience in

Well-Being Design
Conscious of our impact here.
Our environmental footprint throughout the development process is of most importance to us. We make sure to be an integral part of the environmental program of the community we are working in. That is why we commit to developing each location with Green-Spa specifications implemented into our Design Guidelines.
Wellness is a Sensory experience.
We combine some of the best Spa Hydro/Thermal design equipment and compliment them with uniquely captivating Spa products and Rituals from around the globe. We ensure highly qualified well-being facilitators create "Experiential Spa" journeys for your Guests.
Elements of Surprise.
There is only the unexpected to be expected with us. Every space will surprise and delight your guests. Our subtle design, signature scents ,decorative touches and ambient sounds eminate well-being and offer guests luxuriant spaces to sit with and explore the wonders of their inner worlds.
Our Commitment to Well-Being.
Knowing how to create what you need to care for your guests is simple, because we care and we strive to always be a positive impact in the lives of others. The Well-being of your guests as well as your Spa team members is vital to the success of your Spa business. We believe Wellness is a lifestyle and we share this awareness through our passion for and our dedication to the Wellness Industry.
We strive for your success by bringing you our innovation, creativity and expertise.
This is why we are in Wellness.
" I am not defined by the work I do. Who I am defines the work I do." Miriam Seferian.
UAE: +971(0)52 8490686
Europe: +39 339 3355564
As an international Consulting company we offer our services & technical support in architecture, interior design and specialty equipment development for every phase of your Spa Project.
We bring life to your Spa with our expertise in Spa Business Management and Operations.
We offer on-site support, Technical development support, Strategic project planning and Project development.
We bring our Business minds together to guide you and your team towards the best revenue model for your Spa Business
We create new opportunities for the continued growth of your Spa
.
We don't follow trends... We create yours.